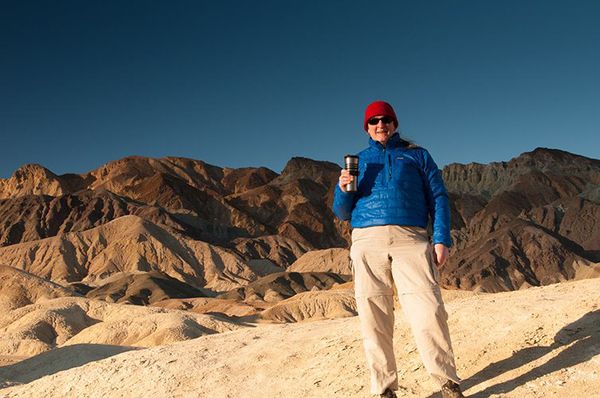 The Joy of Coffee
I love coffee. I love it on my way to work, on a Saturday morning around the woodstove, or after a decadent dessert. My favorite coffee is the one I have just after sunrise during an adventure. The sun is up. The light has changed from the early morning low angle slant to The Morning. I start the Jetboil and soon, the dark, magic liquid is in my cup. It's beautiful and flavorful and soothing and Aaaaah, all is right with the world.
I have been hiking, skiing, mountain biking, rock climbing, ice climbing and mountaineering for more than 40 years. I first picked up a camera to document all my adventures from the Alps to Acadia, Yosemite to North Conway and lots of places in between. I took pictures while climbing, around campfires, and of my children growing up.
I decided somewhere along the way that I wanted my photographs to be beautiful, too, not just documentation. This part of the journey has taken me to places I never thought I would go such as Death Valley, the seacoasts of the northwest, and Patagonia. I'm largely self-taught but I have also learned (and keep learning!) from workshops with Art Wolfe, Bruce Barnbaum, Jay Dusard, Ben Silverman, John Shaw, Justin Black, and Jack Dykinga. I've made great friends and I've learned so much, especially from the generosity of other photographers, most of whom have a coffee in their hands as early as possible.
I don't make my living from photography. I work in the allegedly heady world of biophysical chemistry at the University of Massachusetts. I sell my work, but I don't rely on it for my income. This gives me greater flexibility to pursue what interests me. Largely, the joys I get from making photographs are my own, but I hope that you will get yourself a mug of coffee and spend some time poking through these portfolios. Here's to a cup with you soon!
Cheers!
Lizz Bartlett